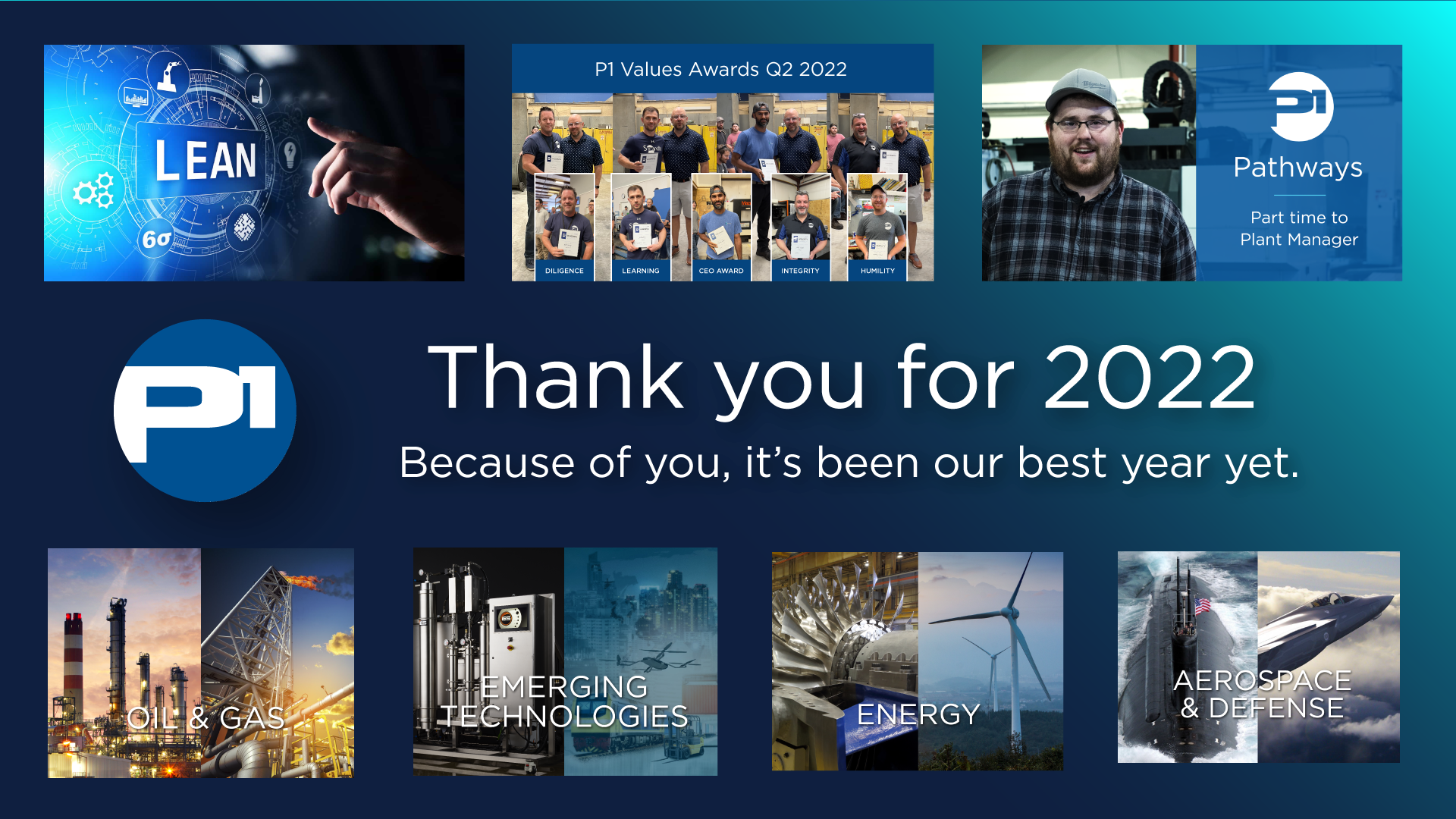 This has been our best year since our humble beginnings in 2007. We grew in so many ways. We added new team members, new customers, acquired several new machines, increased product lines, and reconfigured our facilities to LEAN. The list goes on.
We worked hard. Really hard. Everyone consistently pulled more than their own weight. Our culture matured wonderfully and our team grew more cohesive than ever before.
It's been a great year.
And we know why.
It's because of our amazing team and our fantastic customers. We know that everyone says, "Our people make all the difference". Well, platitudes aside, for P1, it's our reality. Our truth. Take John Junge, a living example of our unwavering commitment to finding, training, developing, and employing anyone who wants to work hard, learn, and grow. From part time at night to plant manager of our Generator Coils division, over a few years, John was mentored, encouraged, corrected, trusted and given huge responsibilities. To us, that's what meaningful success and great people look like. John is just one example of many machinists that make P1 who we are.
And then there are our P1 Values Awards winners. Team members unafraid to not simply do their job, but to build something special on the foundation of our company values. And it isn't only that they were noticed by leaders, but much more importantly, recognized by their own colleagues. A manufacturing company rewarding employees for living out values? Yes, because we're not simply a modern manufacturing company. We're a force for good with a powerful mission to revitalize American manufacturing. And that requires much more than simply producing quality parts.
But, in some ways, more than all of this, it's about another group of relationships without which we wouldn't exist. They are the reason we're a business. Our incredible customers! From Oil & Gas to Energy to Defense to Emerging Technologies, we are blessed to work with the finest companies in the world. It's a privilege to receive every order we do from them, and we do our utmost to deliver their custom parts with the highest quality, on time, and on budget. Of course, we don't always succeed in this because as you can imagine, manufacturing is a complex, stressful, high-stakes endeavor. But it's also immensely rewarding, and our partnerships make it all highly worthwhile.
An inspiring highlight this year was hosting several tours of junior and senior high school students eager to learn about a career in manufacturing. Our growing partnerships with local colleges and schools is most encouraging and challenging. We are highly committed to being a place these curious STEM students can come to learn, intern and work at.
Our CEO, David W. Dussault, often reminds us that manufacturing is more than a job, or even a career. For us at P1, it's a calling. You can feel it when you visit our facilities. There is a quiet, steady confidence on our shop floors. No yelling, arguing, or straining. Just work getting efficiently done. I realize you may be thinking, "Who wrote this piece? It sounds too good to be true". Well, it is in fact true. There is no reason for me to exaggerate or mislead anyone. I'm responsible for our Marketing and culture development so I see these things from a perspective maybe some of our teams don't have due to their everyday responsibilities. And I'm proud of what we're building. It's healthy and meaningful and providing a living for a whole new generation of machinists, engineers, and various other pathways.
So, thank you to our customers! We value your trust in P1 Manufacturing and look forward to a growing partnership with each of you. We aim to do better for you in 2023 and hope that together with us, it will turn out to be your best year yet.