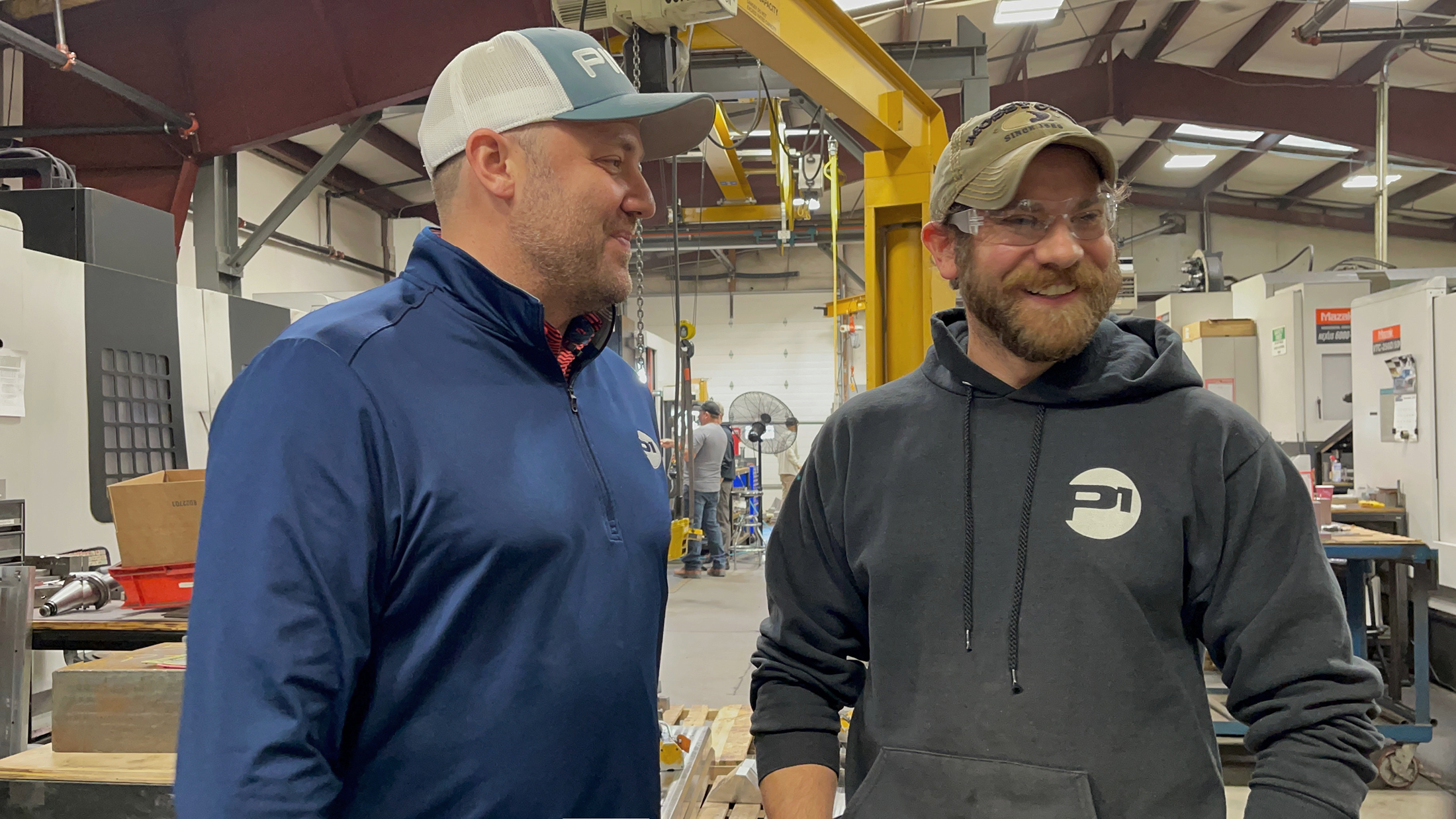 David Dussault envisioned a new future for American manufacturing.
He set out to build a company based on a foundation from his own life and Legacy that would infuse American manufacturing with the excitement of entrepreneurship, and bring jobs back to Upstate NY.
Born and raised in Upstate NY, David Dussault is one of our region's venture champions: serial entrepreneur, investor and startup mentor. He was a featured speaker at the 2017 Upstate Unleashed Conference, where he shared his plans to not only revitalize, but revolutionize American manufacturing through entrepreneurship.
Watch David's CEO Talk: The Manufacturing Revolution Starts Here
David's father was a factory worker, and his mother worked around the clock taking care of the family's seven children. David says they didn't have much, but what they lacked in material possessions was filled with great values and unconditional love. His childhood laid the foundation for the strong moral character and integrity David instills in his employees today as founder of P1 Industries, P1 Ventures and his latest venture, Sp1indle.
"Hard work defined my childhood. I started a lawn-mowing company when I was 13, bagged groceries at the market, and hauled stone for a local contractor," said David. "Working as the lowest man on the totem pole in several jobs taught me the importance of integrity and respect – core values that make up our company culture today."
After graduating from Union College, David followed in his father, grandfather and great grandfather's footsteps – who dedicated their lives machining, manufacturing and making products for some of the world's greatest infrastructures for over 100 years. He began working in manufacturing for GE. Within five years time, David was recognized as a rising star. He was running a billion-dollar plant with 300 employees reporting to him, and began to see a path for himself. He knew he wanted to start his own business, and he felt passionate about marrying entrepreneurship with his familial roots to build something special.
"My family experiences helped shape me as a leader to respect and honor everyone, regardless of their position in life," said David.
Forbes: Values pave way for David Dussault's natural leadership to take root
David envisioned a new future for American manufacturing, fueled by entrepreneurship. He vowed to get the next generation excited about 21st century manufacturing jobs by building a platform for them to thrive and have profitable careers in the industry. This plan included investing in millennials and new technologies, like thermal and hydro-generation manufacturing, to spur innovation and make America highly competitive against global manufacturers. In 2006, David founded P1 Industries in his hometown of Schenectady, NY.
"GE was founded in Schenectady in 1892, formed by JP Morgan and a group of partners who had a vision for building the power infrastructure in this nation. Schenectady has a great manufacturing heritage," said David. "Why not build on that heritage and that foundation of excellence and transformational technology development and usher in the 21st century industry in manufacturing. That's what we're passionate about and trying to accomplish."
P1 Industries is a manufacturing network making turnkey products for advanced power generation, aerospace and other emerging technologies globally. P1 is one of the largest providers of parts and service for hydro turbines today. GE, Siemens and NASA are some of their largest customers. The company was designed to bring service and excellence back to an industry that was archaic and old.
"We're industrial entrepreneurs, building on the legacy of manufacturing in this great nation." – David Dussault
P1 is now building an advanced manufacturing center, P1 Sourcing Services, for 3-D technologies that could help P1 expand into new product areas such as energy storage and steel flywheels. Instead of outsourcing manufacturing to China, David says P1 ships products here.
"P1 Sourcing Services is challenging us to take a capital intensive business, that invests in equipment, physical property and turn into a software company," said David. "We're seeking ways to create recurring revenue and digitize our business model to reduce our fixed costs to be in position to scale."
David says there are over 11,000 machining companies in the United States with under 20 employees, and together they represent over 12 billion hours of unutilized time on a yearly basis. Big companies like GE cannot buy from a 20 person company in Upstate NY. They need work, sales and infrastructure, and cash flow. P1 Sourcing Services leverages their capacity by using a machine learning software tool to be able to service its customers and grow the business without having to add physical equipment and facilities.
"We're digitizing the manufacturing world," said David. "One of my machinists asked me, if I put a machine in my garage in east bubble NY and I want to service aerospace components to make parts for a 787, I can do that through P1 Sourcing Services? Yes, absolutely. Because we're transitioning from a hard asset business to a software business," he added.
With a mission to merge technology and the principles of entrepreneurship with a traditional manufacturing firm, David is developing a fast-paced, passionate, energetic team of people who love making parts for large organizations around the world. He believes that over the next 15-20 years that the manufacturing industry is going to go through a major transformation, and he wants his team to play a large role in making that happen.
"We started small and focused on finding the right people, achieving world-class production, and delivering excellent service, all while repeatedly turning down offers from private equity investors," said David. "Instead of building something big, I wanted something great! I knew we could achieve this by deepening our commitment to purpose-driven leadership, and focusing on more than just large-scale production."
Forbes: Meet the American Manufacturers of Forbes Small Giants 2017
But how do you create enthusiasm among your workforce in the manufacturing industry? Over the last several years P1 has undergone a significant culture shift to transform into a values-driven business solidified with high levels of transparency. This included buying out minority shareholders and downsizing its workforce to rid the company of those who weren't a strong culture fit.
"We institutionalized our culture to be a values-based business to cast a transcendental vision that people could get behind – Revitalizing American Manufacturing," said David. "We started building a culture that people could be proud of, and excited to come to work each day. Our goal is to hire, inspire, train and develop the next generation of workforce in manufacturing."
Since 2009, P1 has hired over 25 graduates from Hudson Valley Community College under the age of 21 years old. The company has invested in their well-being, and their leadership capabilities. This puts 65% of the company's workforce under the age of 30, with only five people having voluntarily left the company in the last decade. P1 currently employs over 80 people. "Everyone wants to be a Wall Street broker or software engineer, but we still need to make products. Over 80% of the world's economy is made goods. So I say to you, how about being an industrial entrepreneur at the forefront of the manufacturing revolution?"
P1 also shares the company's financial data with employees, who receive annual bonuses based on earnings, and the company has investing over $9 million over the last 10 years in machine tools, property, improvements, equipment, training and workforce development.
"We invested in these things because we said if we're going to make a compelling argument to have our customers buy goods from the United States, then we need to have the top of the line machine tools, software and technologies in place," said David. "We're taking the approach of building community, build a family, versus just building a profit-driven enterprise."
David says the next step to revolutionizing American manufacturing is to go after new frontiers by investing in products and companies that are engineering the next generation. To do this, he  created a venture arm, P1 Ventures, to be able to discover and identify those companies and emerging OEMs – Original Equipment Manufacturers – who may need help with supply chain manufacturing management.
"There's a lot of them out there. We're working with firms from Denver to Boston. Folks who are designing products and bringing it to a lot of different end markets like energy storage," said David. "We're looking at steel flywheels, which to me is one of the greatest technological innovations in energy storage."
David welcomes anyone who is interested to get involved in his mission to revolutionize American manufacturing. He's looking for access to emerging OEMs – people designing the next generation products who need help with manufacturing. P1 is also always looking for sales and marketing talent who are passionate about building a 21st century manufacturing enterprise, and identifying customers around the world to bring products back to the United States.
"We're also seeking connections to small manufacturing machine shops in your community that are struggling. Someone who has invested in equipment and people and have phenomenal capabilities," said David. "We want to put them on the P1 Sourcing Services platform so we can go out and sell for them. We want to help these firms thrive in the 21st century in a global environment."
Tags: manufacturing, p1industries, industrial, entrepreneurs, excellence, ceo, leadership