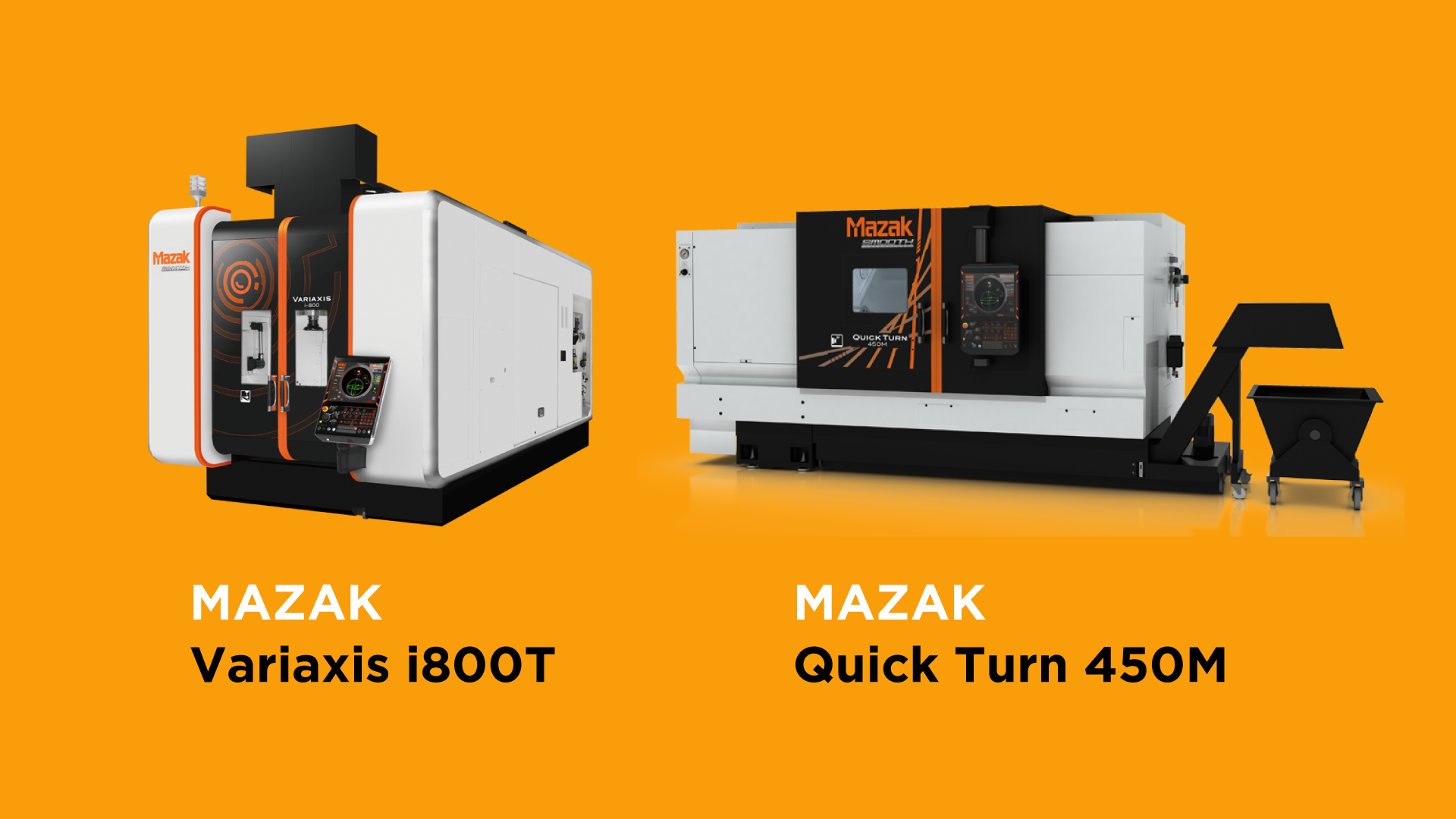 P1 is pleased to announce the purchase of two new Mazak machines: Variax i800 and Quickturn 450M.
Thanks to sustained growth in 2021 and the addition of multiple new customers, P1 is in a position to add these new capabilities. We are now able to create even more complex parts for customers more rapidly and cost effectively. Learn more about the Mazak's capabilities below.
The VARIAXIS i-800T combines multiple-surface, simultaneous 5-axis milling with advanced turning capabilities to productively process highly complex parts in single setups.
It is one of the few machines with a trunnion-style tilting table to feature a 50-taper spindle and Multi-Tasking operations. As such, users can reduce the inaccuracies that occur when moving parts across multiple workstations, eliminate work-in-process inventory and boost overall throughput.
Standard, high-speed and high-torque milling spindle specifications are available to successfully meet a broad range of application requirements in industries such as aerospace, heavy construction and energy.
Machine Characteristics
Handles parts up to 39.37″ in diameter and 14.76″ high
DONE IN ONE® operations reduce production lead times
Trunnion-style tilt table reduces setup and change-out times
No. 50 spindle available in 5,000/10,000/15,000 rpm speeds
High-speed rapid traverse rates and rotary axes indexing
Tool storage capacities from 30 to 120 tools offer high flexibility
The Kentucky-made QUICK TURN 450M CNC Turning Center with Multi-Tasking capability brings together advanced technology, productivity and value to deliver exceptional performance for shops of all sizes.
With its M configuration, the machine features milling capabilities (M) along with a standard, large spindle bore capacity of 7.28″ for a variety of through-hole applications. The standard 50-hp integral turning spindle motor allows the QUICK TURN 450M to process a wide range of medium or larger-diameter parts.
The QUICK TURN 450M features a machine design that minimizes vibration during heavy duty turning to create exceptional surface finishes and maintain long tool life. With no transmission belts, pulleys or gears, its integral spindle/motor delivers more of its high-efficiency power to the tool tip for cutting purposes.
Machine Characteristics
Powerful main turning spindle
Rotary tool milling
CNC programmable tailstock
Through-hole chuck packages
Automatic tool eye